Enjoy convenience and comfort with Lothian buses!
Lothian Bus has been a trusted transportation partner in Edinburgh for over 100 years. With a fleet of 700 buses and over 70 services operating day and night, we are committed to providing reliable, safe, and comfortable travel experiences for students across the city.
🚌 Efficient Routes: Our extensive network spans multiple cities, ensuring hassle-free travel to your desired destinations. Click here for your local bus.
🚌 Modern Fleet: Travel in style and comfort aboard our state-of-the-art buses equipped with amenities for an enjoyable ride.
🚌 Student-Friendly Fares: We understand the importance of budget-friendly travel for students. Enjoy special discounts and fare options tailored just for you. Click here for student discounts.
🚌 Safety First: Your well-being is our top priority. Our professionally trained drivers and rigorous safety protocols ensure a secure journey every time.
🚌 Eco-Friendly Commitment: We're dedicated to reducing our carbon footprint. Travel with us and be a part of our sustainability mission. Click here for information.
🚌 Digital Convenience: Stay connected with our user-friendly app, allowing you to track buses in real-time, plan routes, and purchase tickets with ease. Download Lothian.
Choose Lothian for a comfortable, reliable, and affordable transportation experience. Ride with us today and discover the difference.
Local Taxi Services
Capital Cars
93-101, Gorgie Road, Edinburgh EH11 1TE, UK
+44 (0)13 1777 7777
City Cabs LTD
Atholl Place, Edinburgh EH3 8HP, UK
+44 (0)13 1228 5319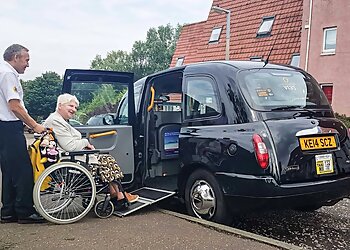 Train Websites
ScotRail
+44 (0)34 4811 0141
Website Link

ScotRail is Scotland's principal train operating company, providing rail services across the country. As part of the wider National Rail network, ScotRail connects urban and rural areas, offering a comprehensive and efficient transportation solution. With a focus on passenger convenience and service reliability, ScotRail plays a crucial role in facilitating travel for both commuters and tourists, contributing to Scotland's overall connectivity and transportation infrastructure.
For students residing in the heart of the city, cycling is a popular and eco-friendly option.
Edinburgh presents an ideal setting for cyclists to embrace a sustainable and enjoyable mode of transportation. Whether students seek to commute, take leisurely rides, or venture into the countryside, they will discover a cycling-friendly environment. The city offers a range of cycle hire and storage facilities, both on campus and throughout Edinburgh, ensuring convenient access for students.
Serco - Electric Bicycles can be found across Cardiff City.
Explore Edinburgh and beyond effortlessly with an extensive bus network.
Travelling by bus in Edinburgh is a convenient and efficient way to get around the city. The bus network in Edinburgh is extensive, covering various neighborhoods and connecting key locations. There are multiple bus operators, including Lothian Buses and other private companies, offering a wide range of routes and services.
Planning a trip beyond Edinburgh?
Edinburgh Airport, located a mere 14.5 km from the University of Edinburgh, serves as a vital link for students and visitors, enabling easy access to the dynamic city and its surrounding areas. With a wide range of domestic and international flights, students can conveniently travel to various destinations, expanding their horizons while studying at the University of Edinburgh.
Navigating Edinburgh is effortless with excellent transportation connections.
Edinburgh's well-connected and versatile transportation options make navigating the city effortless. Key national railway stations such as Edinburgh Waverley, Haymarket, South Gyle, Dalmeny, and Edinburgh Park provide convenient travel connections, serving as crucial hubs in the city's transportation network. These stations facilitate easy access to various destinations, enhancing the overall transportation experience in Edinburgh.
FAQs
What train services go through Edinburgh?
Edinburgh is served by various train services, including ScotRail, LNER, CrossCountry, TransPennine Express, and the Caledonian Sleeper. These services connect the city to destinations across Scotland and the UK. For comprehensive route details and schedules, students can visit National Rail Enquiries or refer to the official websites of the train companies operating in Edinburgh
How can I explore around Edinburgh using buses?
Edinburgh students benefit from an affordable and extensive bus network. Multiple bus routes serve the King's Building, offering convenient transportation for attending lectures and exploring the city. To stay informed about bus schedules and routes, students can consult local bus operators or use journey planning apps for up-to-date information.
How does University Edinburgh promote sustainable trasportation?
As part of its Master Plan and future developments, the University of Edinburgh is committed to integrating land use and transport planning. The goals encompass decreasing private car reliance, optimizing current infrastructure, managing travel demand, and promoting sustainable modes of transportation.