Discover Convenience and Comfort with Stagecoach!
Most buses in Cambridge are operated by Stagecoach, where you can buy a ticket from the driver. You can also embrace eco-friendly exploration with The Universal Bus, a sustainable travel option operated by Whippet. This fully electric bus service seamlessly connects the vibrant hub of Eddington with key destinations, fostering sustainable mobility within Cambridge.
For details on travel routes, fares, and other bus services kindly visit Travel by bus.
🚌 Efficient Routes: Our extensive network covers many cities, ensuring you can get where you need to be, hassle-free. Click here for your local bus.
🚌 Modern Fleet: Travel in style and comfort aboard our state-of-the-art buses equipped with amenities for an enjoyable ride.
🚌 Student-Friendly Fares: We understand the importance of budget-friendly travel for students. Enjoy special discounts and fare options tailored just for you. Click here for student discounts.
🚌 Safety First: Your well-being is our top priority. Our professionally trained drivers and rigorous safety protocols ensure a secure journey every time.
🚌 Eco-Friendly Commitment: We're dedicated to reducing our carbon footprint. Travel with us and be a part of our sustainability mission.
🚌 Digital Convenience: Stay connected with our user-friendly app, allowing you to track buses in real-time, plan routes, and purchase tickets with ease. Download MyBusTrip.
Trust Stagecoach to get you to your destination comfortably, reliably, and affordably. Experience the difference - ride with Stagecoach today!
Local Taxi Services
Cambridge City Taxis
+44 (0)12 2383 2832
Rent Direct Car Service
379-381 Milton Road
+44 (0)12 2330 9409
Train Websites
Greater Anglia.
+44 (0)34 5600 7245
Website link
Greater Anglia's train service to Cambridge offers a seamless and efficient transportation solution for both commuters and leisure travelers alike. Renowned for its reliability and punctuality, Greater Anglia ensures a smooth journey connecting Cambridge with key destinations in the region. With modern amenities and comfortable carriages, passengers can enjoy a pleasant travel experience while taking in the picturesque landscapes along the way.
You may choose the optimum arrival time for your needs, whether you're heading into the workplace or just enjoying the city at your leisure, with trains to London running every few minutes during peak hours. There are also services ran by Thameslink, Great Northern, Cross Country.
For students residing in the city center, cycling is a popular and eco-friendly option.
Renowned for its bike-friendly infrastructure, Cambridge boasts an extensive network of dedicated cycle lanes, making it a haven for cyclists. Whether you're a local resident, student, or visitor, the city encourages sustainable travel through its robust bicycle options. Students have access to a range of cycle hire throughout the city. Cycling allows them to easily commute to lectures or discover the charming streets of Cambridge, enjoying the scenic views and fresh air.
With ample bike racks and a community that embraces pedal power, Cambridge invites everyone to experience the city's charm and beauty from the saddle of a bicycle.
City Cycle Hire - For cycle hire around Cambridge.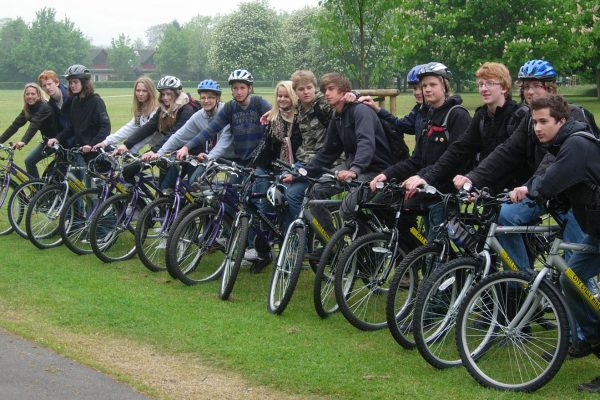 Exploring Cambridge and beyond is made easy with the extensive bus network.
Exploring Cambridge by bus unveils a tapestry of historic charm and academic allure. The city's efficient and well-connected bus network, managed by various operators including Stagecoach and Whippet, makes traversing its cobbled streets and iconic landmarks a breeze. From the bustling city center and renowned colleges to the tranquil waterside and vibrant neighborhoods, buses provide a window into the heart of Cambridge. Whether you're a visitor immersing yourself in the rich cultural tapestry or a local enjoying the convenience of public transportation, the bus system offers a sustainable and comfortable way to experience the city's unique blend of history, academia, and modern life. So, hop on board, and let the buses of Cambridge be your gateway to the many facets of this picturesque city. Visit bus information for more details.
Considering a journey to a more distant destination?
London Stansted stands as the primary major airport near Cambridge, situated approximately 25 miles away. Traveling to this airport takes around 30 minutes by train and 40 minutes to an hour by car or coach, contingent on traffic conditions. Boasting a robust selection of airlines catering to European destinations, London Stansted provides excellent connectivity. For precise flight details, feel free to explore the London Stansted website or reach out directly to the respective airlines. Some other airports near Cambridge are London Luton, London Heathrow & London Gatwick
Navigate effortlessly around Cambridge with a network of seamlessly connected transportation choices.
The University of Cambridge is served by two main train stations:
Cambridge Railway Station & Cambridge North Railway Station.
Navigating the vibrant academic landscape of the University of Cambridge is made seamless through an extensive and efficient transportation network. Students have easy access to a well-connected system of buses, cycling lanes, and footpaths, allowing them to effortlessly travel between colleges, libraries, and lecture halls.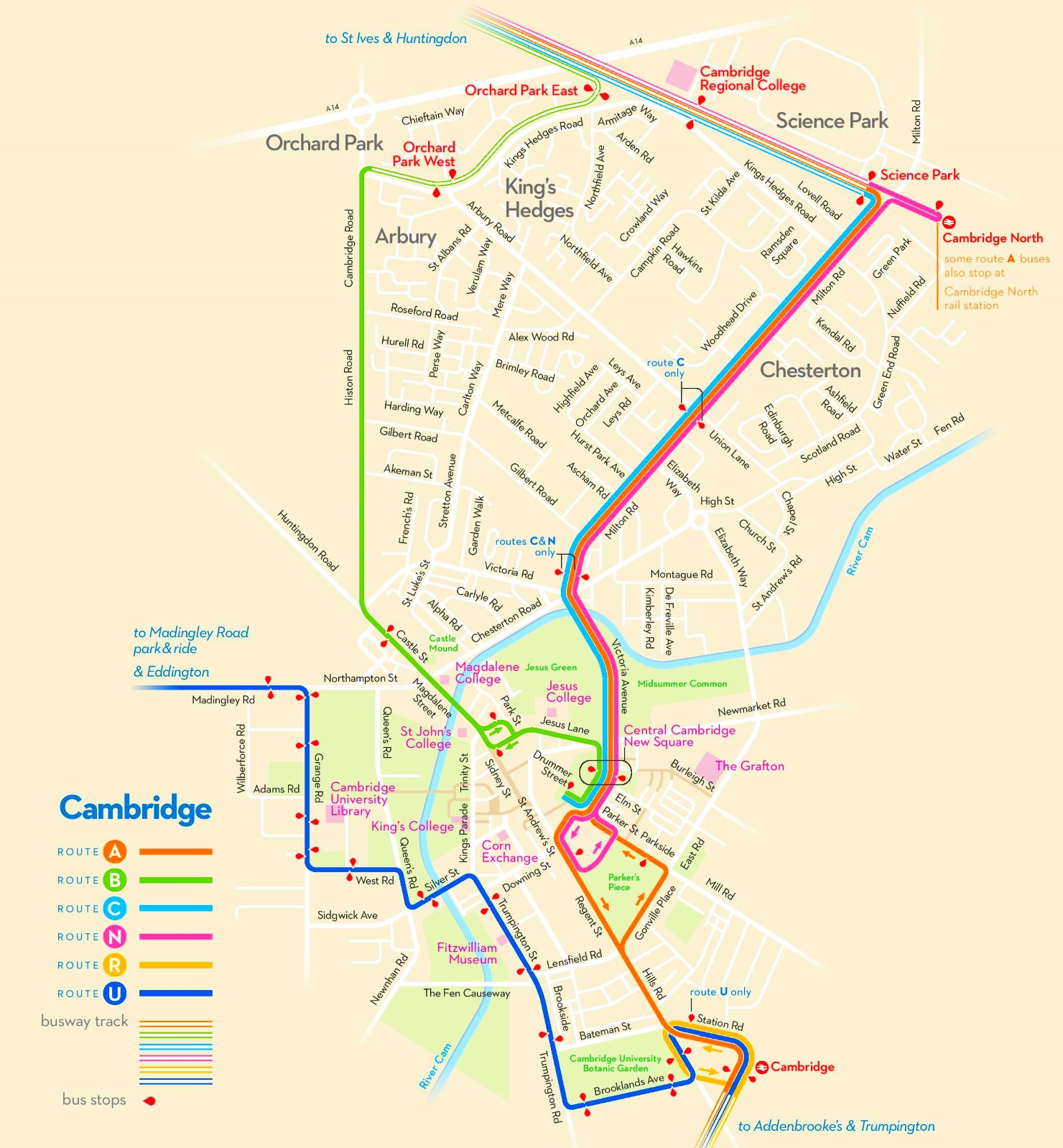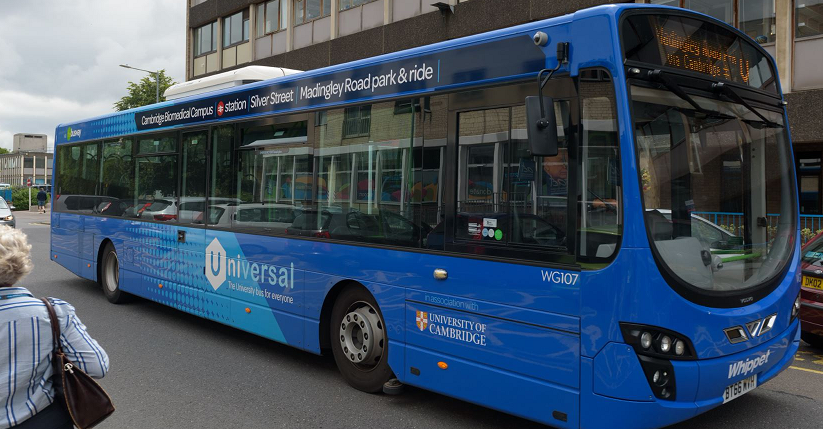 FAQs
What train services go through Cambridge?
The University of Cambridge is served by two main train stations:
Cambridge Railway Station, is the primary and most centrally located train station in Cambridge. Situated approximately 1.5 miles south-east of the city center & Cambridge North Railway Station located to the north of the city, this station serves as a secondary option for travelers and students.
How can I explore Cambridge and nearby areas using buses?
Cambridge's extensive bus network offers students convenient and cost-effective transportation options. The various bus routes serving the Cambridge campuses ensure convenient commuting for students attending lectures and discovering the city. University students can take advantage of student discounts and smartcards, keeping their travel expenses budget-friendly. For the closest bus stations near University of Cambridge you can check Travel by bus.
How does the University of Cambridge promote sustainable transportation?
Cambridge promotes sustainable transportation through initiatives like encouraging active transportation (walking, cycling). The city also operates The Universal Bus, a sustainable fully electric bus option operated by Whippet.